Welcome to my pages...

You are welcome to my website. This virtual space contains my microcontrollers based projects and ideas (mostly Atmel AVR ) and (soon...) some radiofrequency little designs for Ham radio applications. Comments and suggestions are welcome!

Benvenuti nel mio sito web. Queste pagine contengono, principalmente, alcune mie realizzazioni elettroniche ed idee basate su microcontrollori (sopratutto della famiglia AVR di Atmel) ed (a breve) piccoli progetti a radiofrequenza per uso radioamatoriale. Le pagine scritte piu' recentemente sono in lingua inglese. Eventuali commenti e suggerimenti sono ben accetti!

What's new:
January 8th , 2009 : 2.4GHz Low Noise Amplifier Project, math worksheets available for download! (RF Topics section)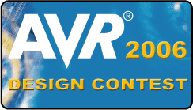 January 15th , 2007 : "Tiny Gas Detector" project won the "Distinctive Excellence" prize at Circuit Cellar / Atmel AVR design contest 2006 !!!
(see Microcontrollers project page).

January 1st , 2007 : website "restyling" ready! Some new AVR projects are included

Send me an e-mail: fabrizio32 (at) tele2.it
---